CONDITION BASED MONITORING
Condition Based Monitoring (CBM), or predictive maintenance is a particularly Important vertical in maintenance practices in today's industry 4.0 An approach for the smooth functioning of machinery and equipment used in the industrial applications. CBM is an essential diagnostic approach that uses real-time data, surveillance testing, and analysis to identify any possible issue/ risk associated with the machinery operations at its early stage.

CanOpus is the Proud CBM service Provider to the Only Manufacturing Unit to have made to the list of World Light‐House Network. The World Economic Forum honored The Kalinga Nagar plant of Tata Steel 3MTPA that has the highest standard of Predictive Maintenance Practices.

The integration of well-planned, periodic condition monitoring or predictive maintenance approach helps to:
Impending Equipment failure can be detected
Can prevent shutdown equipment
Ensures the safety of equipment as well as the human beings working around it
Test run with assessment before the equipment to failure
Production can be modified
Maintenance, labor, spares can be pre-planned
Root cause of failure detectable prior to breakdown
Plan design modifications if required with statistical data
OUR CBM SOLUTIONS
Bringing the best in India in the CBM industry together at TATA
ACOEM, Emerson & Erbessd is Vibration Technology Partner of CanOpus for TATA Group, SDT Group, Partner for Ultrasound Analysis
Single Peak Lube Technology & TRICO, Partner for Critical Oil analysis, High-End Lab at TATA Plants in Angul & Kalinga Nagar
Complete team of 6 Experts, 8 Service Engineers & 6 Support Engineers to serve round the clock Vibration Analysis, Alignment, NDT, Thermography, Flow, Ultrasound and Oil Sample Collections for 11.3 MTPA Steel Plants of TATA Group
CONDITION MONITORING TECHNIQUES
01.
VIBRATION ANALYSIS
Vibration-based analysis techniques are widely used for condition-based monitoring and maintenance services. The vibration spectrum is collected for the machinery which consists of rotating or moving assets. There are 2 major areas being looked at: Acceleration and Velocity of the machines. The prime objective of Vibration Analysis is to carefully monitor rotating machinery and detect possible problems and control future machinery failure (if any).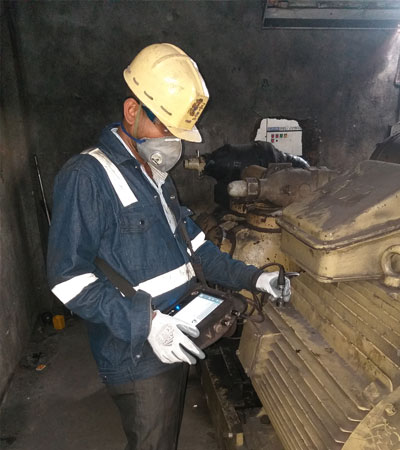 02.
FERROGRAPHY
This condition-based monitoring technique involves the examination of various oil samples used in the machinery on a scheduled/ periodic basis. It also involves the identification and separation of solid particles (ferrous and non-ferrous) from the lubricating oils and checking their characteristics like: size, composition, distribution, concentration, etc. Ferrography testing helps to detect the critical stage of the machinery that may result in critical failures. This type of testing is also called as Wear Particle Analysis or Wear Debris Analysis.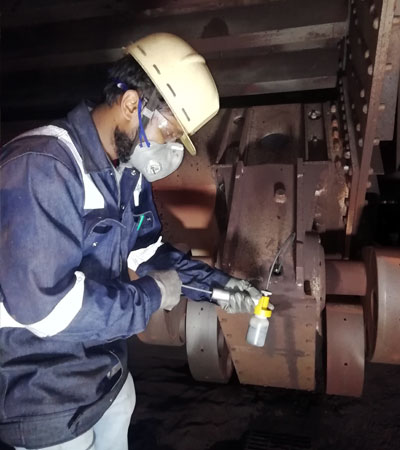 03.
LASER SHAFT ALIGNMENT
One of the most common problems in rotating machinery is shaft misalignment. Misaligned shafts are one of the greatest reasons for plant breakdowns as it increases the pressure on the machinery bearings and affects the movements. The condition-based monitoring for laser shaft alignment helps in identifying the misaligned shafts and fixes it with maximum precision. This significantly helps in reducing wear and tear on the bearings, seals, shafts, and couplings thereby minimizing the operating and maintenance costs.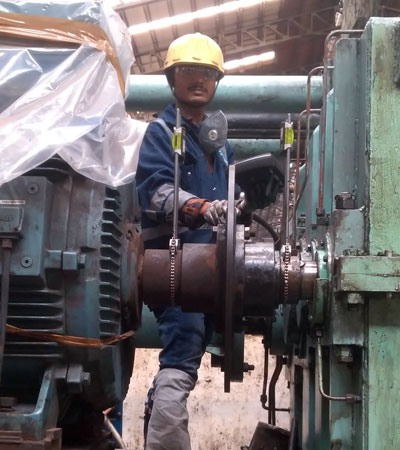 04.
THERMOGRAPHY ANALYSIS
Temperature is one of the most common indicators of machinery health. Thermography analysis is widely used for preventative maintenance on mechanical equipment through thermal energy. It is a widely used analytical method to identify the temperature differences with faulty machinery, worn out equipment, damaged material components, etc.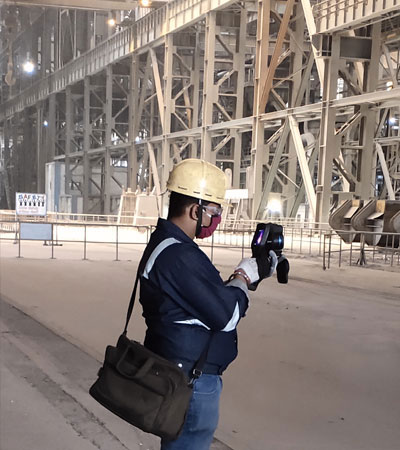 05.
ULTRASOUND ANALYSIS
Condition monitoring through ultrasound analysis is one of the most reliable method and versatile predictive technology. As a companion to vibration analysis, ultrasound analysis helps with identifying early fault conditions in rotating and non-rotating machinery, especially with slow rotating assets. It helps to record in real-time the sounds of operating equipment and provide early warning indications of failure conditions.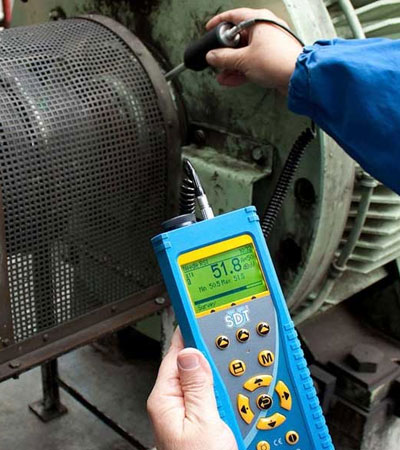 06.
ULTRASONIC TESTING
This is the highly effective preventive maintenance method to detect incipient faults in bearings and even adequacy of lubricant. These testing devices uses the advanced technology that can be used to check the lubrication and friction level and monitor a wide range of plant operations. This effective testing method helps to avoid and control many repairs and failures that commonly occur in industrial settings.
For more details, connect with us
CBM = Cost Savings + Improved Machine Health + Performance Optimization
At CanOpus, we use the most modern, state-of-the-art technology, innovative instrumentations, most updated software, as per various international standards. Find ourselves unique because of Our expert team in the Industry, who are well trained and certified to perform the highest standards of testing methods and procedures. This team keeps Learning & Growing with the latest skills & theories from the masters of the technology to provide our customers with better solutions.
Standard Operating Procedures (SOPs)
At CanOpus, development and use of SOPs are an integral part of our successful quality system. Our technical and service engineers are trained with regards to the set SOPs & adhere to the safety standards & protocols.